Beach mineral mining ban shatters lives
DECCAN CHRONICLE. |
ARUL OLI
PublishedJun 18, 2017, 6:22 am IST
Dozens of such sad stories fly at the face as one steps into this dark zone that was so full of life and all-round development just four years ago.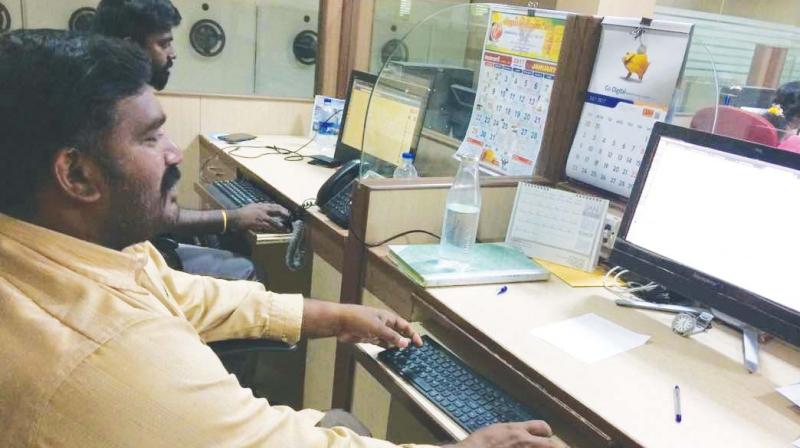 Tirunelveli: While the Prime Minister pushes his pet 'Skill India' campaign for delivering 400 million skills-trained workforce by 2022 to turbo-charge employment generation and economic development, the reverse is happening down south Tamil Nadu.
The four-year ban on beach mineral mining has robbed the employment of over 15,000 skilled youths, who are now battling hunger by turning to menial jobs in the drought-hit Radhapuram region of Tirunelveli district. Apart from such personal agony for these many hapless families, the huge loss to state exchequer by the freeze on its royalty income from the mining could badly hurt its budget planning; not to mention the big dollar losses by derailed exports as the region contributes over 70 per cent of India's heavy mineral share in the global market.
ITI-qualified Balamurugan of Naalumavadi village had been working in the transport section of a leading garnet processing and export plant at Vallanvilai (Tirunelveli district) for about 10 years when the mining ban hit his company in September 2013. Now the 30-year-old father of three kids has ended up as a construction worker.
"My two sons and a daughter were going to an English-medium school when I was in the company drawing over Rs.15,000 a month. Now they go to a government school because I cannot afford to pay fees. I am just managing to keep them off starving with my meagre income", Balamurugan told Deccan Chronicle.
MBA grad C. Venkateswaran, 33, of semponvilai, was earning Rs.25,000 a month in the marketing department of a busy beach mineral company but after the ban brought the shutters on the factory, the polio-stricken man is now driving an autorickshaw at Thisayanvilai bus stand to feed his family.
Vetrivel, 32, was taking home a salary of Rs.13,500 working as driver at a beach mineral company. Now a pavement dweller in Chennai, he earns just enough to save the family back in the village from hunger. The mineral company used to provide healthcare for the family but now the medical bills of his aged parents are daunting. "I hope the government lifts this ban and I get back my job", says Vetri sporting a vacant look.
Dozens of such sad stories fly at the face as one steps into this dark zone that was so full of life and all-round development just four years ago. Murugan, 22, an automobile diploma holder lost his job in the body-building section of a beach mineral company and is now a woodcutter, chopping down the thorny 'seemakaruvelam' shrubs. "This wood is supplied to the carbide units near Ottapidaram. I get four rupees per kilo of wood",  Murugan said.
Krishnammal, 50, managed to educate her daughter even after her husband deserted her when the girl was barely three months old. The mineral company where she had worked took care of the girl's bills. "My daughter is now in the final B.Com and I must turn to private lenders to pay her fees", says Krishnammal, also expressing disappointment that her dream of securing an administrative job for her daughter in the company crashed with the mining ban.
Like Krishnammal, many women have been badly hit by the ban and the closure of their factories. Rajeswari, 52, used to earn over Rs.10,000 a month in a factory but now is rolling beedies to feed the family as the factory is closed and the husband is paralytic.
While the mining ban rendered thousands jobless in the coastal districts of Tirunelveli, Kanyakumari and Thoothukudi, the region has turned into a 'fertile' ground for private money lenders. Also, the steep fall in incomes and purchasing power among the locals has badly impacted all businesses and trade here.
Tirunelveli CITU secretary Mohan says a huge human tragedy is emerging out of the beach mining ban. The workers could move the courts for remedy, he says.
State coordinator of Naam Thamilar Katchi, Viyanarasu, strongly came down upon the state government for continuing the ban disregarding impact on the workers' livelihood. "This blanket ban in the name of regulation is just not fair. What about the welfare of these poor workers?" he asks.
http://www.deccanchronicle.com/nation/current-affairs/180617/beach-mineral-mining-ban-shatters-lives.html