தாது மணல் இருப்புகளை ஆய்வு செய்ய வந்த அரசு உயர் அதிகாரியிடம் தாது மணல் தொழிலாளர்கள் முறையிட்டு திருநெல்வேலி மாவட்ட ஆட்சி தலைவர் ஒரு தலை பட்சமாக சில நிறுவனங்களுக்கு சாதகமாக செயல்பட்டு தவறாக உத்தரவு பிறப்பித்துள்ளார். தாது மணல் நிறுவனங்களின் கருத்தை கேட்கவில்லை என தொழிலாளர் பிரதிநிதிகளும், தொழிலாளர்களும் முறையிட்டார்கள். இது பற்றிய செய்தியை கருணையோடு டெக்கான் கிரானிக்கல் பத்திரிக்கை மட்டுமே வெளியிட்டுள்ளது. அதற்கு தொழிலாளர்களின் சார்பில் நமது நன்றியை தெரிவிப்பதோடு மேற்கண்ட பத்திரிக்கை வெளியிட்ட செய்தி தொழிலாளர்கள் மற்றும் இதர பொது மக்கள் தெரிந்து கொள்ள கீழே கொடுக்கப் பட்டுள்ளது.
Workers petition court commissioner on unfair hearing
DECCAN CHRONICLE. |
M ARULOLI
PublishedMay 14, 2017, 6:19 am IST
UpdatedMay 14, 2017, 6:20 am IST
Blanket ban on beach mineral mining companies deprived them of their basic livelihood.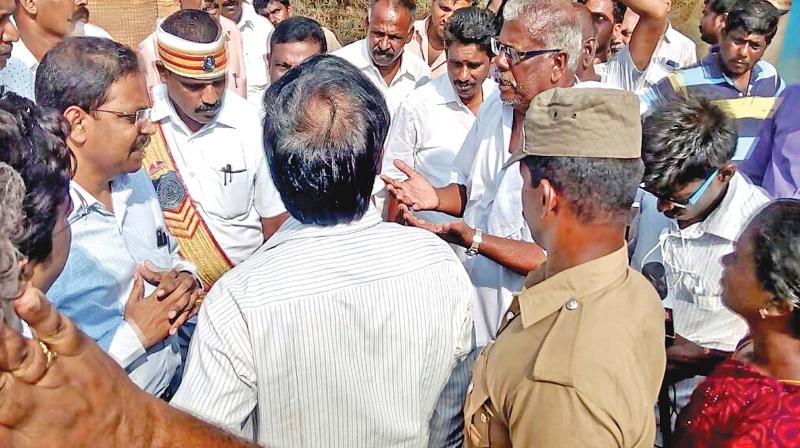 Tirunelveli: The court commissioner, Satyabrata Sahoo assured the workers of the beach mineral mining companies that he would not submit his report to the Madras high court without hearing their side.
Mr Sahoo, who has been appointed by the court to assess the stock of the beach mineral sand in the southern districts during his visit to one of the beach mineral factories at Vallanvilai in Radhapuram taluk was surrounded by around 500 labourers, who complained that the blanket ban imposed on beachmineral mining companies in the region deprived them of their basic livelihood.
The workers too complained that the district collector, M Karunakaran, who was present on the occasion, has been acting with personal motive in the issue.
Some of the higher officials of the beach mineral companies too added that the district collector deliberately refused to hear their side before taking action.
This, according to P S Kannan, manager of V V Minerals "may have hands of their global competitors from China" as V V Minerals, which stood first in the global garnet market an year ago has been pushed to the 18th place globally. Kannan also alleged that at the district level committee meeting, their company's complaint was not properly heard.
Receiving the four-page petition from the workers, the court commissioner, Mr. Satyabrata Sahoo promised the workers and officers of the beach mineral companies that he would not finalise any report without hearing the versions of both the companies and the workers.
The workers too have tactically warned of taking up series of demonstrations if their problems were not properly settled and the beach mineral companies reopened without redressing their issues.
Link : http://www.deccanchronicle.com/nation/current-affairs/140517/workers-petition-court-commissioner-on-unfair-hearing.html